If you're after an entry-level mountain bike that won't break the bank, look no further than a hardtail. A hardtail mountain bike is built with a front suspension fork, while a dual-suspension mountain bike is also equipped with a rear shock which adds to the price of the bike and in reality you're unlikely to find a reliable dual-suspension mountain bike for under $1000.
When you're looking at a hardtail in this price range almost all bikes will be built with an alloy frame which is durable enough for trails riding but not too heavy that you can't control it. The alloy frames are paired with a suspension fork from a range of brands, but most usually from brands such as FOX, RockShox or Suntour for entry-level bikes. These bikes are usually built for relatively straightforward trail riding and for that reason they will usually have 100mm travel.
The next most important component is your brakes, mountain bikes come with either mechanical disc brakes or hydraulic disc brakes. Otherwise known as cable disc brakes, mechanical disc brakes are a cheaper option which use a steel cable to apply the braking pressure. While Hydraulic brakes use hydraulic fluid to transfer the braking power and offer a much smoother and reliable feel, meaning that you should always make hydraulic disc brakes your preference on a mountain bike.
Most bikes in this range will have mixed groupset from the lower end of the range, it's best to look for a bike with the majority of componentry provided by SRAM or Shimano to ensure that you get the most reliable ride possible. Groupsets in this range will run a double or triple chainset for a range of gears to handle a variety of climbs and descents. As mountain bikes get more expensive they are usually outfitted with anything from a 1x10 speed to 1x12 speed drivetrain which requires less maintenance as there are less moving parts.
When it comes to wheels, you'll get a mix of 27.5" and 29" wheels with some brands changing the size of the wheel for the same model depending on the frame size. The smaller 27.5" wheels are lighter and stronger, typically offering a more agile ride and a lower standover height. While the 29" wheels give you better traction and comfort which is something a lot of entry-level riders look for. This usually comes down to personal preference and your size, if you're a smaller rider you might just feel more comfortable on a smaller wheel.
Norco Storm 1
The Norco Storm 1 is an incredibly capable bike as Norco have maximised every aspect of this hardtail. The highlight is the air sprung RockShox Silver Solo Air 30 fork with 100mm travel and the ability to fine-tune this suspension fork to your needs. While the 2x9 speed Shimano drivetrain offers reliably smooth shifting and together they allow you to tackle tough trails. The Storm 1 is built with a lightweight and durable X6 alloy frame with longer reach, slacker head tube angle and steep seat tube angle which help you ride with more powerful and efficient pedalling, as well as better climbing traction and control while descending.
You'll ride in control on the WTB Ranger 2.25" tyres and Tektro hydraulic Disc Brakes which give you all of the braking power you need on the trails. The Norco Storm 1 offers similar capabilities to more expensive bikes and is built to impress.
Shop Norco Storm 1 Range
Cube Aim SL
The Cube Aim SL brings advanced German design and technology at an affordable price. The Aim SL is built with an Aluminium Lite frame with internal cable routing and a Suntour fork with 100mm travel and remote lockout. The highlight is the powerful Shimano MT200 Hydraulic Disc Brakes with 160mm rotors and incredibly crisp braking performance. The 3x9 speed Shimano drivetrain and Shimano Altus Shifters is more than up to the task when it comes to taming trials. The Aim SL comes in both 27.5" and 29" wheels with Cube's size split system which gives you the perfect fit. The bike really earns the SL tag, built to be super light and perform without the high price tag.
Shop Cube Aim SL Range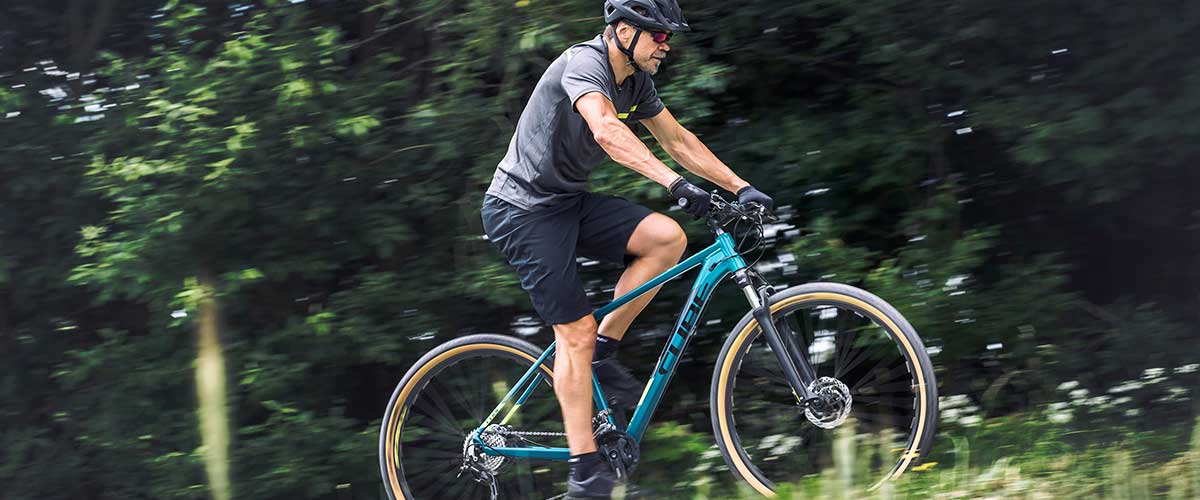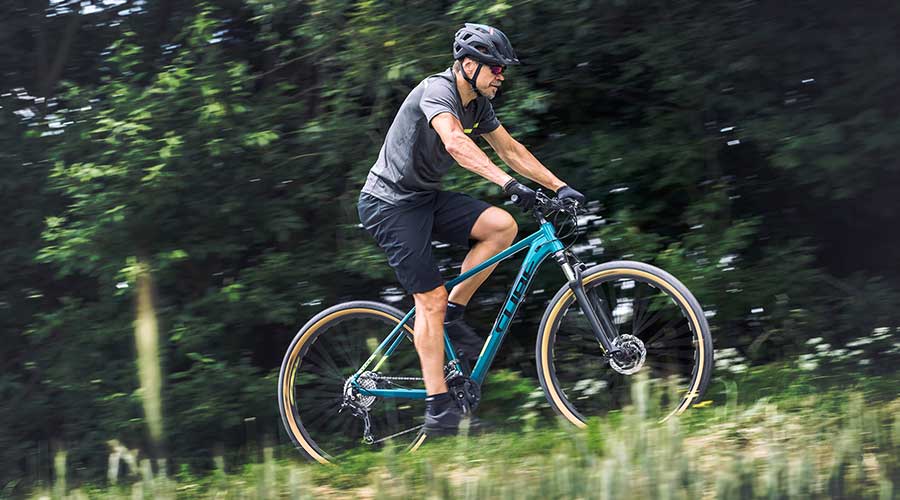 Merida Big Nine 20
As the most affordable bike in the Merida Big Nine range to be equipped with Hydraulic Disc Brakes this bike packs plenty of heat. Equipped with the Big Nine Speed aluminium frame and relaxed geometry, this bike is lightweight and easy to control while you're sitting in a more upright position thanks to the relaxed geometry. The Suntour XCM fork with lockout offers the versatility to push the limits and really have some fun even as you're still learning and improving. While the 3x8 speed Shimano drivetrain is more than capable for entry-level riding on a variety of surfaces. If you like the sound of this bike but are looking for a smaller option, the good news is that this bike comes in a 27.5" wheel with the Big Seven 20D Model.
Shop Merida Big Nine 20 Range
Shop Related Products
Shop All Hardtail Mountain Bikes
Shop Merida Mountain Bikes
Shop Norco Mountain Bikes
Shop Cube Mountain Bikes
Shop Clothing
Shop MTB Helmets