Opening Hours:
Mon 9:00am - 6:00pm
Tue 9:00am - 6:00pm
Wed 9:00am - 6:00pm
Thu 9:00am - 6:00pm
Fri 9:00am - 6:00pm
Sat 9:00am - 5:00pm
Sun 10:00am - 4:00pm

6th June :

10am - 4pm

24th June :

12pm - 5:30pm

13th June :

10am - 4pm

28th June :

CLOSED

13th June :

10am - 4pm

28th June :

12pm - 6pm

13th June :

10am - 4pm

24th June :

CLOSED

13th June:

10am - 4pm

23rd June:

1:30pm - 6pm

13th June :

11am - 5pm

30th June :

CLOSED

13th June :

11am - 5pm

29th June :

CLOSED

30th May :

10am - 4pm

13th June :

10am - 4pm

13th June :

11am - 5pm

28th June :

CLOSED

30th May :

10am - 4pm

13th June :

10am - 4pm

13th June :

10am - 4pm

23rd June :

CLOSED

30th May :

10am - 4pm

13th June :

10am - 4pm

13th June :

11am - 5pm

23rd June :

9am - 6pm

24th June :

3pm - 6pm

27th June :

1:30pm - 5:30pm

23rd June

11:30am - 5:30pm

Workshop Bookings
Book A Service Now
Maribyrnong Bike Shop
99 Bikes Maribyrnong is conveniently located on Hampstead Road, just down the road from the Highpoint Shopping Centre. Our Maribyrnong bike shop has a huge range of road bikes, mountain bikes, hybrid bikes, commuter bikes, fixie bikes, cruiser bikes, BMX and kids bikes. Open 7 days a week, with late trading until 6:00pm on weeknights, and workshop drop-off from 9:00am. Parking is available right in front of the shop at all times. Professional bicycle mechanics are on-site, offering servicing and repairs on any bike, any brand. 99 Bikes offers the guaranteed best price on bikes, parts and accessories on world leading brands such as Garmin, Shimano, GoPro, Merida, Norco, Cube, Apollo, Mongoose, Schwinn and more. 99 Bikes is the bike shop for riders across Maribyrnong city within Melbourne City, servicing Maribyrnong, Maidstone, Braybrook, Footscray and surrounding areas.
Meet the Team
Name: Beau
Role: Team Leader
Expertise: Mountain bikes and e-Bikes.
What do you love about bikes?: I love that people can have cycling in their lives for a hundred different reasons; riding off-road in the mountains, epic long road rides, commuting to work, riding rail trails in scenic country towns, hitting up the local skate park, family outings. Just to name a few!
Email: tl.maribyrnong@99bikes.com.au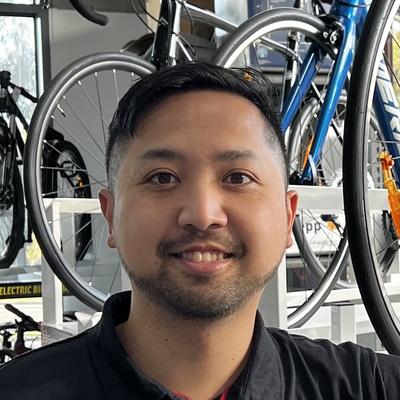 Name: Jason
Role: Second In Charge
Expertise: Gravel Bikes! I own one and I absolutely love the flexibility of the bike. I also have been dabbling a bit in road cycling too!
What do you love about bikes?: I love how much fun bike riding is and that there is a bike for every person. Discovering bike riding and riding with friends is the best!

Name: Georgia
Role: Sales Consultant
Expertise: Commuter bikes such as hybrid bikes and flat bar road bikes as well as cruiser style bikes.
What do you love about bikes?: I love road riding for the agility and the speed. I also love mountain biking for the skill and ability to throw yourself down any terrain and figure it out as you go. Both have their own unique factors that make them fun.

Name: Rob
Role: Mechanic
Expertise: Mountain Bikes, Road Bikes and Human Powered Vehicles.
What do you love about bikes?: I love the sense of progression, achievement and plain and simple fun that you can get from pretty much any type of riding you dip your toes in.

Name: Tonn
Role: Mechanic
Expertise: It's all about BMX racing and traveling for me.
What do you love about bikes?: I love that my bike has taken me all over the world. It's not the most convenient travel companion but I've been to about 50 countries and my bike has almost always been with me. Nothing else has consistently brought on so much happiness.

Shop Expertise & Services
Finance Options
Ride now, pay later with simple, fast and flexible payment solutions from zipMoney. Apply online in less than three minutes. Learn more »
Bike Fitting
The perfect bike deserves the perfect fit. Each new bike comes with a free assessment on our professional bike fitting jig. Learn more »
Maintenance Classes
Learn the basics of how to maintain your bike, how to change a tube, and how to keep your bike clean. Classes are free for Club 99 members. Learn more »