Opening Hours:
Mon 9:00am - 5:30pm
Tue 9:00am - 5:30pm
Wed 9:00am - 5:30pm
Thu 9:00am - 5:30pm
Fri 9:00am - 5:30pm
Sat 9:00am - 5:00pm
Sun 11:00am - 5:00pm

6th June :

10am - 4pm

24th June :

12pm - 5:30pm

11th August :

9am - 5:30pm

26th September :

11am - 5pm

8th August :

10am - 4:00pm

26th September :

11am - 5pm

26th September :

11am - 5pm

23rd June

11:30am - 5:30pm

Workshop Bookings
Book A Service Now
Success Bike Shop
99 Bikes Success is conveniently located at 4/640 Beeliar Dr, and is open 7 days a week. Our Success bike shop has a huge range of bicycles, scooters bike parts, indoor trainers, cycling apparel, car racks, nutrition and everything else you could need. Our professional bike mechanics are on-site, offering servicing and repairs on all types of bikes including road, kids, mountain, and everything in between. Open 7 days a week, with late trading until 5:30pm on weeknights, and workshop drop-off from 9:00am Monday to Saturday and 11:00am on Sundays. 99 Bikes offers the guaranteed best price on bikes, parts, clothing and accessories from world-leading brands such as Merida, Norco, Cube, BMC, Shimano, Wahoo, Garmin, Yakima and more. 99 Bikes is the bike shop for riders in Perth, servicing Southlake, Treeby, Yangebup, Bibra Lake Lake Coogee and surrounding areas.
Meet the Team
Name: Adam
Role: Team Leader
Expertise: Mountain Bikes, E-Bikes, Children's Bikes
What do you love about bikes?: Bikes provide a great alternative to the boring everyday commute. It's a great way to stay fit and healthy both physically and mentally.
Email: tl.success@99bikes.com.au
Name: Matthew
Role: Sales Consultant
Expertise: I've been riding bikes since I was a kid growing up in Minnesota, USA. I was fortunate enough to live in a place that has an abundance of bike paths and trails for a kid to ride. While the majority of my riding was done on road bikes as I grew older, I have done some trail riding as well.
What do you love about bikes?: I love the freedom a bike gives you. As a kid it was a way to go places without mom or dad, and now being on a bike it is a way to just get away from the world for a while. Nothing better than the wind in your face and watching the road go by as you pedal to whatever your destination may be.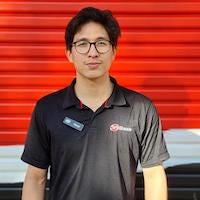 Name: Daryl
Role: Sales Consultant
Expertise: I've loved bikes since I was a boy. Growing up in Singapore where everything was close and easy enough to get to by cycling, I spent most of my time travelling around on a bicycle. I mostly ride around on a fixie and BMX's but I've got plans to take up trail and adventure biking and I am doing my best to learn about them!
What do you love about bikes?: The freedom to go anywhere or do anything. All the different kinds of bikes and their intended uses be it travel or just a nice ride around a park. There is a bike for every occasion and everyone. Once you start having an appreciation for the freedom that comes with cycling be it alone of with family and friends, you'll be hooked!

Name: Emmanuel
Role: Sales Consultant
Expertise: Passionate about Biking and the longevity of the sport. The Plan is to be able to enjoy an Ironman until the 80's and beyond! Road and Tribikes and Exploring E-Mountain Bikes too....
What do you love about bikes?: The Freedom of Riding Bikes!

Shop Expertise & Services
Finance Options
Ride now, pay later with simple, fast and flexible payment solutions from zipMoney. Apply online in less than three minutes. Learn more »
Bike Fitting
The perfect bike deserves the perfect fit. Each new bike comes with a free assessment on our professional bike fitting jig. Learn more »
Maintenance Classes
Learn the basics of how to maintain your bike, how to change a tube, and how to keep your bike clean. Classes are free for Club 99 members. Learn more »