Why not switch out the car for a more convenient and eco-friendly transport option? Commuting to work by electric bike is a terrific alternative to the daily drive or train trip, and 99 Bikes has the low-down on everything you need to know.
Why Commute by Electric Bike?
Commuting to work by electric bike boasts many benefits. Firstly, you'll save time and frustration by not sitting in peak hour traffic jams. Plus, you can ride in your work clothes, arriving fresh and sweat-free, skipping the need to shower and change. It's also a simple way to incorporate daily exercise into your routine. While e-bikes have assistance, you still have to pedal but can choose different intensities for more of a workout. Another great advantage is the money you'll save. There are no ongoing fuel costs, ludicrous inner-city parking fees, tolls, registration, or expensive servicing fees. Finally, and perhaps best of all, is it's better for the planet. The European Cyclist's Federation (ECF) conducted a study to calculate the entire carbon footprint of various transport options. The results showed electric commuter bikes produce just 22 grams of CO2e per passenger kilometre travelled, compared to 271 grams for a car.
What Makes a Commuter Bike?
There are a few things that set a commuter bike apart from other styles. Generally, they're a mix between a hybrid bike and a road bike, incorporating elements of both, including lightweight components. Most provide an upright riding position with a flat bar, which is more conducive to carrying a backpack and better visibility. They're also often designed for a slightly more leisurely pace and easy gearing because it's not the Tour De France to get to the office. This means they're not only great for commuting but also excellent for casual weekend rides.
While there are some common features, commuter bikes do come in all shapes and sizes, depending on your needs and where you're riding. You can opt for a foldable design for easy storage, a drop bar for faster speeds, a road bike for pavement only travel, or a mountain bike for more varied terrain. However, one of the best options is an electric commuter bike. Often they won't have top of the line specs and fancy extras but will have all the necessities, such as power and range, for a safe and comfortable commute. Plus, you can enjoy the ability to customise your bike, with mounting space for accessories such as storage and mudguards. This also means that they are better value for money.
Electric or Pedal Power
Electric commuter bikes are always a great option, but if you're still unsure about pedal versus power, here are some questions to consider.
How long has it been since you've ridden? Electric bikes are brilliant if you're new to cycling, if it's been a while since you've ridden, or if you have physical limitations. They make it easier, but you can adjust your assistance levels as you get fitter and more confident.
How far are you travelling? Electric commuter bikes are excellent for all distances, with a standard bike boasting a range of up to 100-180 kilometres. Even city commuters can travel up to 60 kilometres on a single charge.
Can you shower at work? If not, then arrive sweat-free, thanks to pedal assistance on your e-bike.
How intense is the journey going to be? If you've got a mix of terrain, lots of hills, or just a long distance, then an electric bike will make the journey effortless, so you're not worn out and ready for a nap by the time you arrive.
What are your bike storage options and risk? Once you arrive at work, you will need to keep your bike stored safely and out of the way. Do you have access to lockers, either at the office or even the train station? Is a folding bike an option to keep under your desk? Of course, you'll also need to consider your storage solutions at home too.
What's your budget? While electric bikes can be a significant upfront cost, they can save you cash in the long run, with no fuel, registration, or parking costs. However, 99 Bikes has various payment options available to ease the initial outlay, such as layby, ZipMoney and Afterpay.
Riding Gear and Accessories
Other than your bike, you might want some extra accessories for safety, comfort, and an even more enjoyable ride. The essentials are a well-fitting helmet and lights for safety. However, beyond those, there are plenty of other optional extras that you can consider once you get more acquainted with your bike and route. Additional safety features include a bell and high-vis or reflective clothing. If you want to listen to music or a podcast as you ride, the Aftershockz headphones are the best option, with an OpenFit™ design to ensure you maintain full situational awareness. Comfort extras can include a different saddle, bags, panniers, baskets, mudguards, water bottle holders, and locks for security. Another great thing about electric commuter bikes is that you can wear regular clothes; however, there is plenty of cycling apparel if you prefer.
Finally, you'll need to consider maintenance tools, such as a puncture repair kit, tubes, lubes, a multitool, a pump, and a repair stand. If you're not sure what you're doing, or maintenance isn't your thing, then 99 Bikes has expert mechanics who can repair and service your bike, so it's running like new. Alternatively, you can also upskill by joining a local maintenance class.
99 Bikes Picks
MTB Enthusiast
–
Merida eOne Sixty 300 S
– A dual suspension e-bike loaded with technology so you can dominate the trails on the weekend plus make it to work comfortably.
Folding Electric
–
XDS E-City 20"
– A convenient electric commuter bike that folds in half for travel and simple storage.
Women's Electric
–
Norco Scene VLT Electric Bike
- A modern design with a step-through frame makes mounting the saddle easier, especially in a skirt.
Budget
–
VelectriX Urban
– A simple, classic and stylish design made with quality components at an affordable price.
Best
–
Cube Reaction Hybrid Pro 400 Electric Mountain Bike
– Take the road less travelled with advanced technology and supreme performance.
All-round Electric
–
Merida eSpresso City 300 EQ
– A fantastic everyday solution that comes with everything you need to get on and go.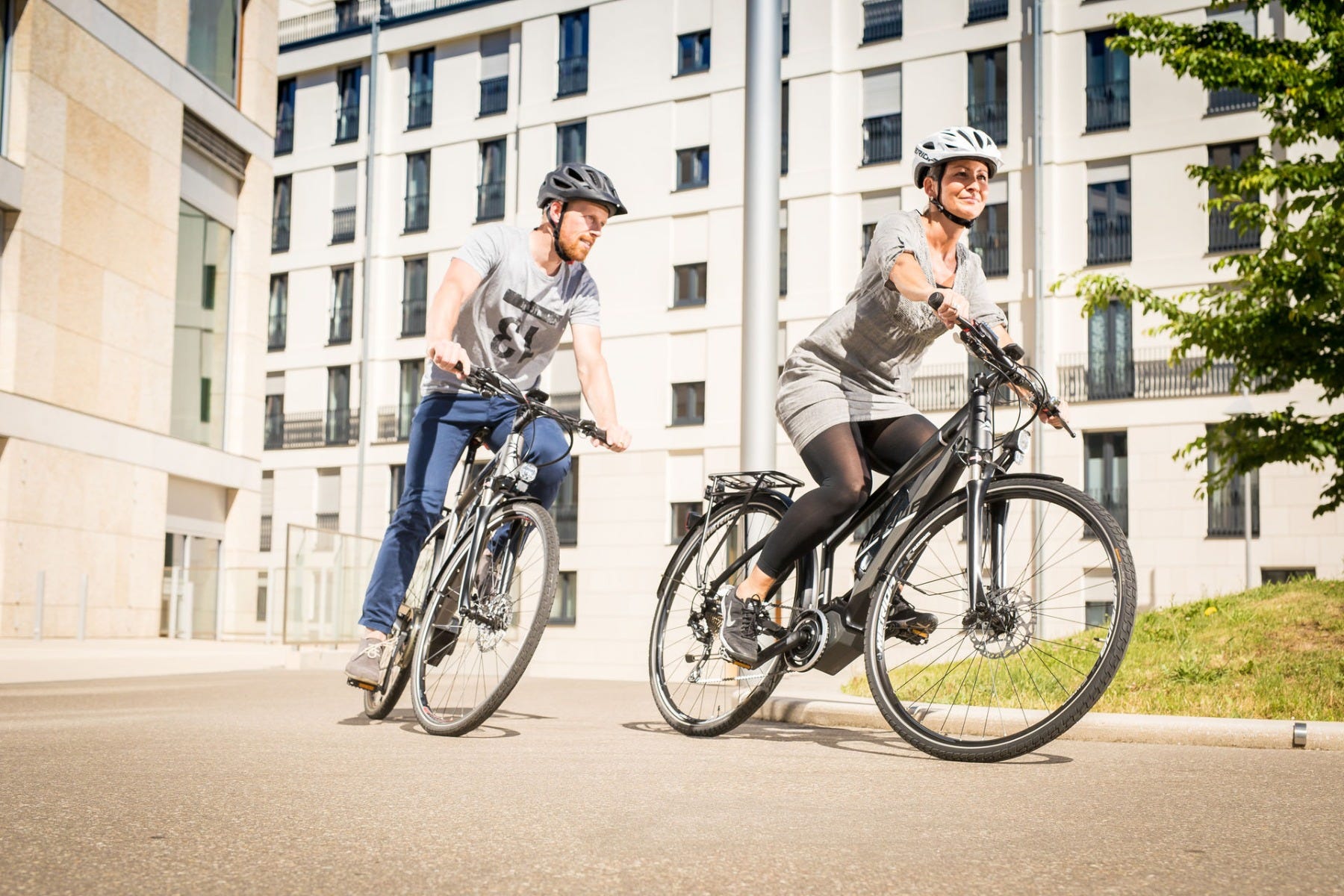 Top Tips from Veteran Commuters
Now that you've decided to start commuting to work by electric bike, here are some tips to keep in mind:
While you may feel enthusiastic, start slowly by commuting one day a week or riding to the station. Easing into a new physical routine is the most sustainable approach, so you don't burn out too quickly (plus, it can some time to get used to a bike seat if you've not ridden in some time!)
Have a backup plan to get to work in case of bad weather, injury, or you're just not in the mood.
Pre-plan your route, so you know exactly where you're going and won't get lost.
Go for a practice ride on the weekend so you have a more accurate idea of timing, route, and potential obstacles.
Learn and follow the road rules to keep yourself safe and out of trouble.
Remember to keep your eyes and ears open while you ride, maintaining good situational awareness.
Learn how to look after your bike and change a tyre with a maintenance class.
Track your rides with an app such as Strava to measure health and performance, and connect with others.
Finally, learn to use your gearing correctly to get the most from your ride — they're there for a reason, after all!

Purchasing and Sizing

There is a wide range of electric commuter bikes available both in-store and online at 99 Bikes. You can check out the sizing chart under each product when you shop online to ensure you pick the correct size. Plus, enjoy the convenience of Click & Collect or check for stock at your local shop – find yours with the Store Locator. Not sure? Test ride an electric bike today at your local 99 Bikes store.